| | |
| --- | --- |
| Project | Work independently and with creative teams to bring art-centered products to market. |
| Goals | Adapt trends and generate creative ideas that resonate with customers. |
| Tools | Adobe Creative Suite, Google Slides |
---
When designing successful art-focused products for Soul Flower to sell, I follow processes that help me make strategic art decisions. Techniques I've adapted to my workflow over the years include: adapting current trends to on-brand creative ideas, designing art to best fit the medium, adapting art assets for new product lines, making both business and creative decisions based on sales data, and creatively pivoting to adapt to evolving business priorities.
Trendhunting
Researching market trends and creating moodboards of themes helps me stay up-to-date with design trends and incorporate cultural movements into my work. I share my findings with the Soul Flower design team to kick off further brainstorming.
This set of greeting cards was inspired by trend and market research. I took inspiration from the themes I identified in my research, and distilled all of it into five designs.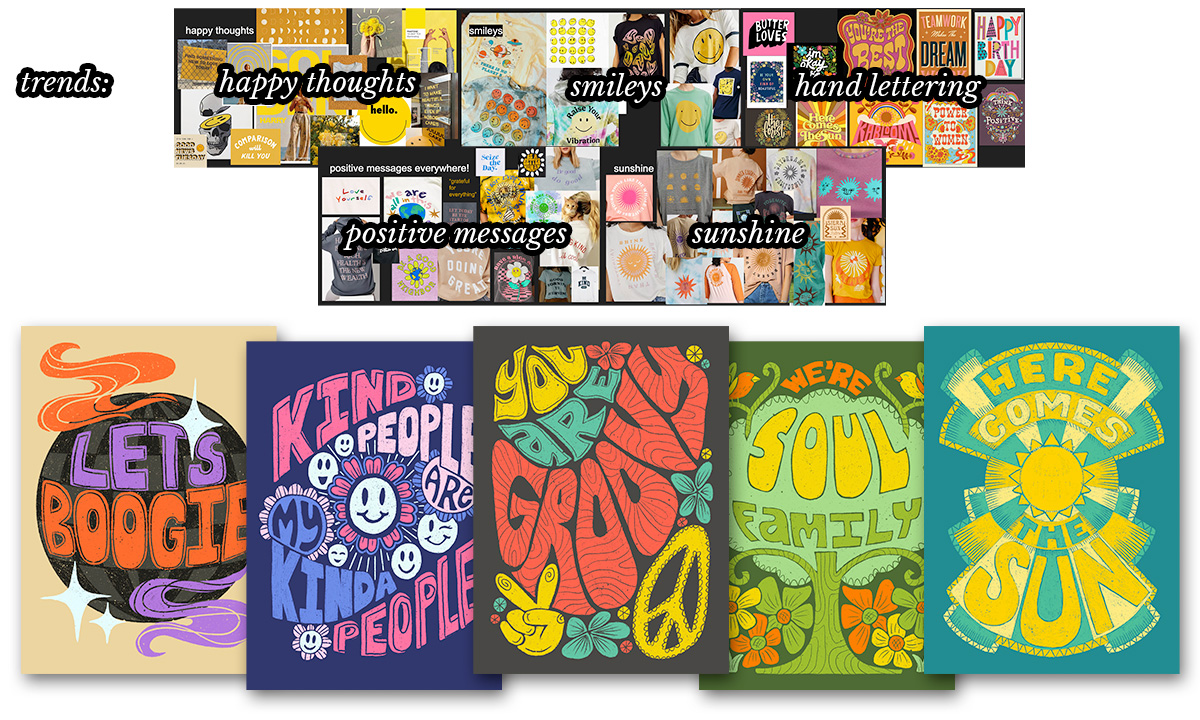 Adapting the Trends
For this nature mandala print, I incorporated a few themes (plants, sage, crystal grids) into one design.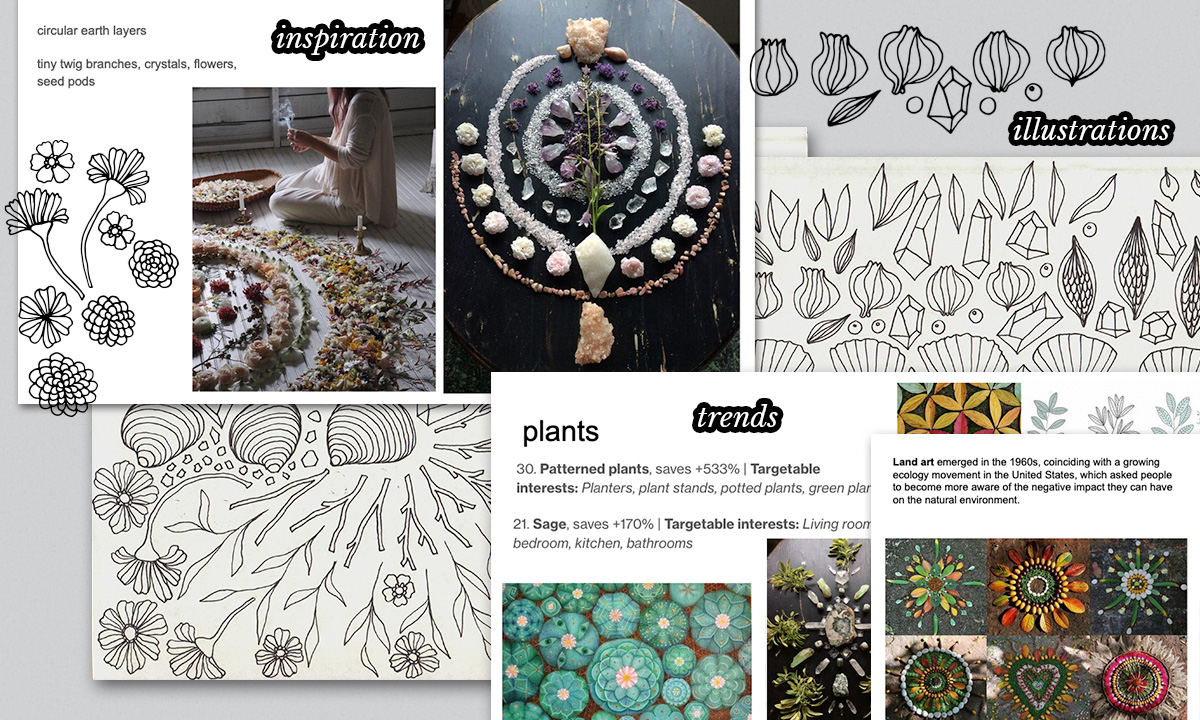 Gathering inspiration for a design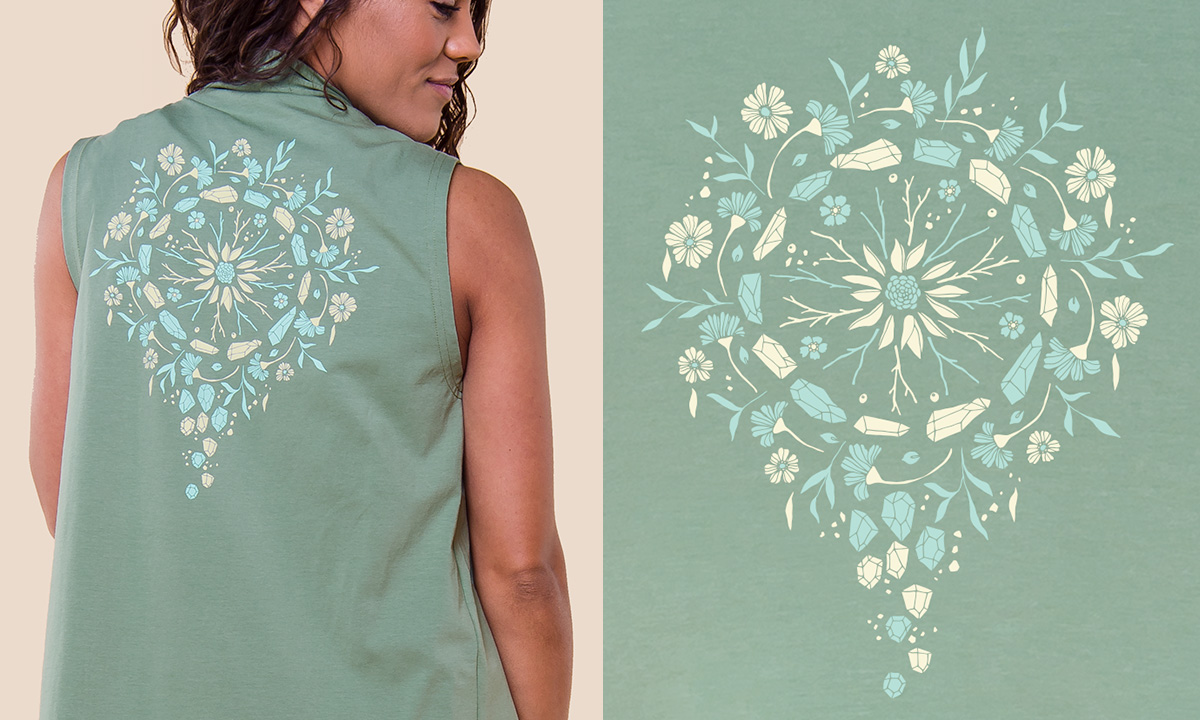 The final screenprinted design
Feedback
Incorporating feedback is a critical part of my design process. I iterate and respond to shifting priorities by reworking the design, tweaking colors, and making mockups. For the design below, I drew it on paper, then disassembled and rearranged the pieces digitally.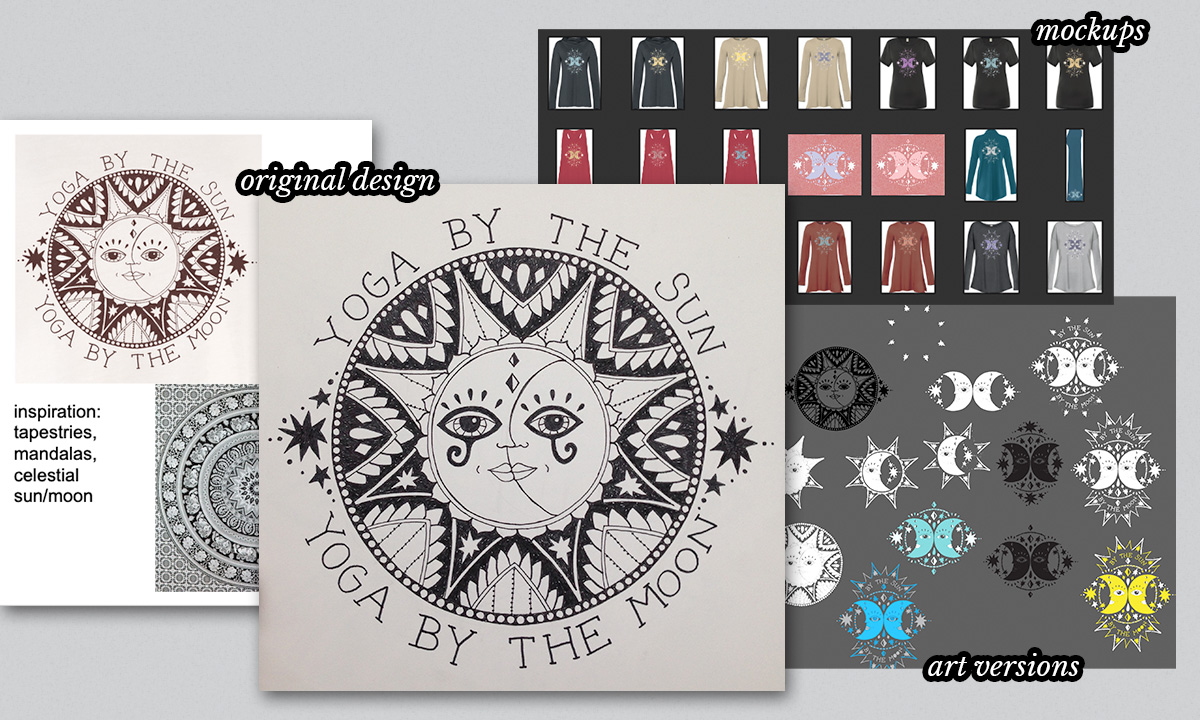 Early stages of a design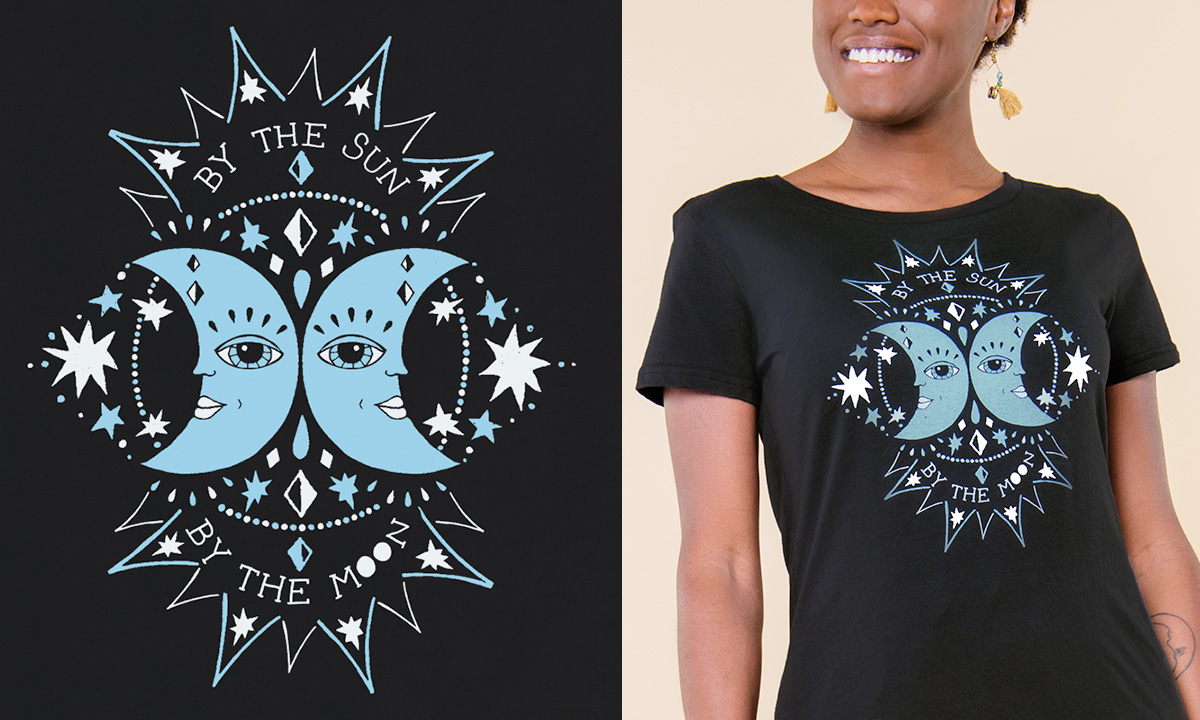 The final screenprinted design
Adaptation
Repurposing my art allows us to jumpstart new Soul Flower product lines with bestselling art. I rearrange elements, redraw, and format for different surfaces and applications.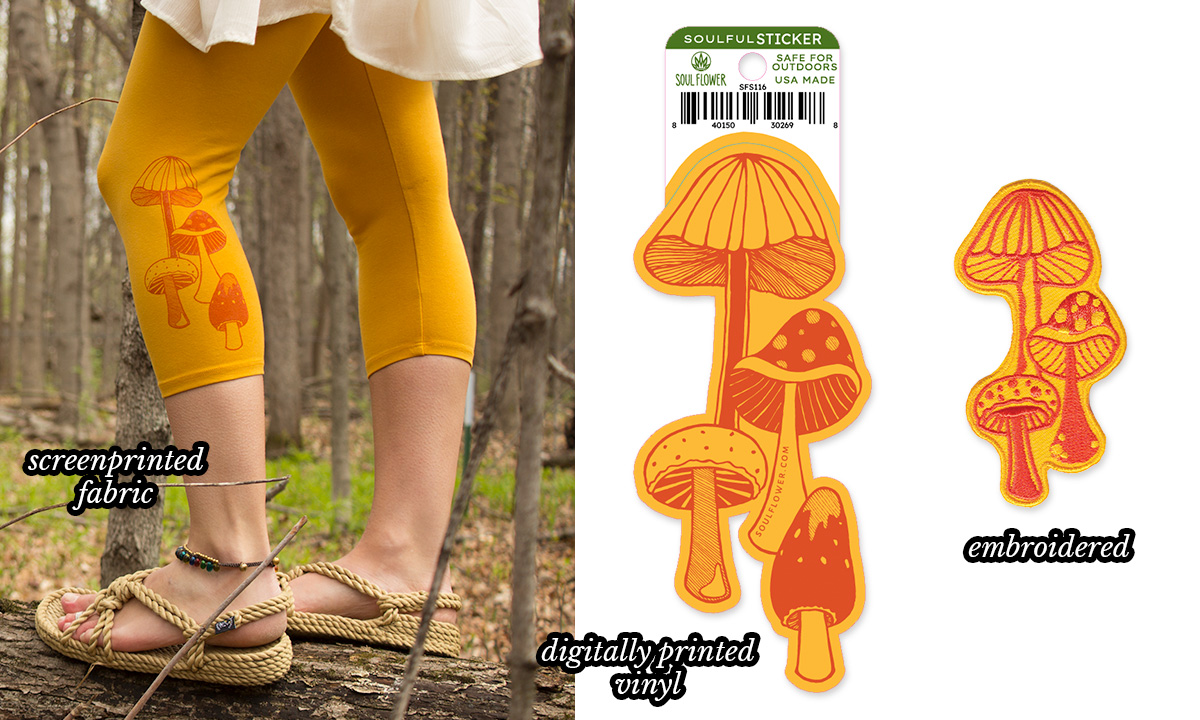 Strategy
To continually make art that customers love, I follow the sales data and experiment to find which design styles will be most successful.
The first notebooks we released featured art on a plain white background, and a couple of them had designs that wrapped around the cover and bled off the edges. Those wrap prints outsold the rest.
The next season, I pushed the wrap-around format a bit more and created colorful full-cover, full-bleed designs. I analyzed the sales data and found that these new colorful notebooks sold almost 200% more than their plain-background counterparts. Knowing this style of notebook art is popular right now, I created a new set in a similar style.

Iterating art over time, based on sales data and customer feedback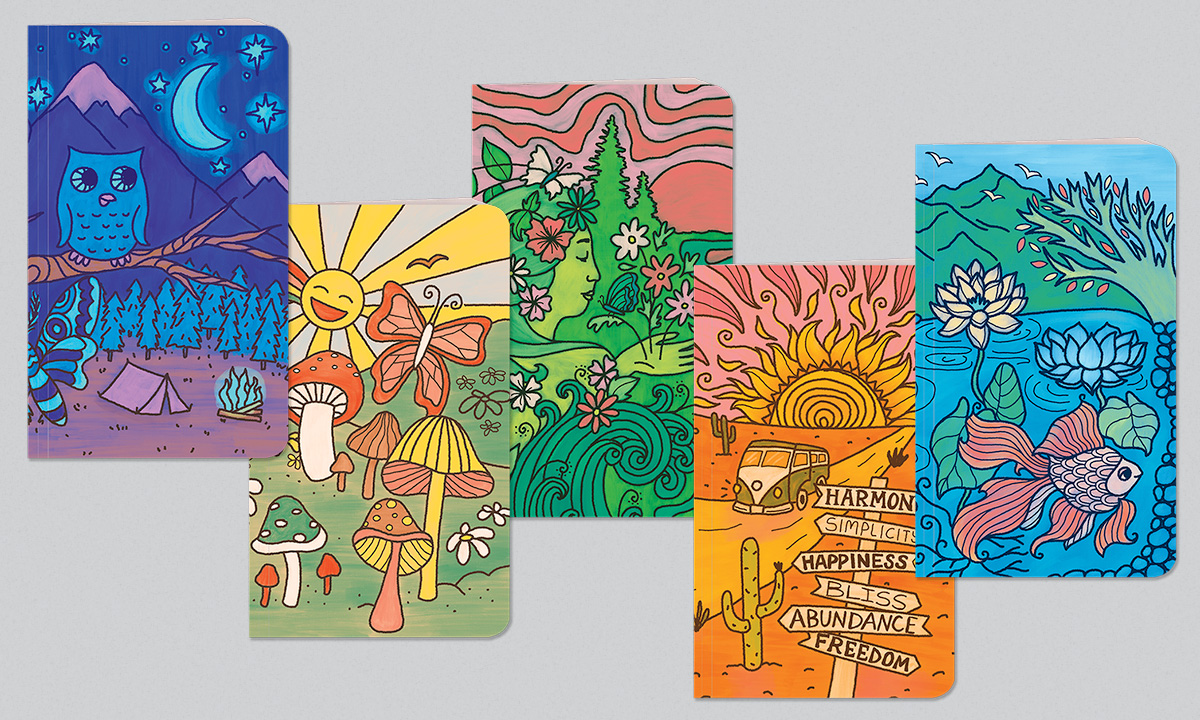 Creating designs that customers love